Shopping Cart
Your Cart is Empty
There was an error with PayPal
Click here to try again
Thank you for your business!
You should be receiving an order confirmation from Paypal shortly.
Exit Shopping Cart
Check here for the latest News and Events

Coming soon; 48th F/A-18A/B Vertical tails for the Hasegawa kit. These will allow you to convert the Hasegawa Legacy F/A-18C or D into an A or B. We also went the extra effort to include an MV lens for the starboard TE light.
48th F/A-18A-D Intakes for the Hasegawa kit. Pictured on our Home page, these are the masters dry fitted to the lower fuselage. We went through great lengths to provide the best possible fit of the Legacy Hornet Intakes. We will definitely keep you guys up to date on this project!
48th & 32nd F-16 Early Block 1-32 Wheel Set. There will be two different structure types of the early Block 1-32 wheels. A set will be specifically sized for the 48th Hasegawa and Academy kits, which scale slightly smaller in the gear assembly.
72nd, 48th & 32nd F-15A Early Wheel Set, with complete brake assembly. There will be two tread options available and possibly tire makes. CAD designed using TO references and dimensions taken from the actual F-15 wheels, these will be the first truly accurate F-15A wheels to enter the market, as they're long overdue!
Not too far down the road:
48th Full Run Seamless F-16 NSI & MCID Intake ducts, for Kinetic & Tamiya F-16s. That's right "Seamless" F-16 Intake Ducts, which will save you loads of time filling and fairing in the seams, which for the Kinetic kit is truly a painstaking task.
48th Corrected F-22 Vertical Tails and Stabs; for the Academy kit. You will be able to replace the kit's way-too thin stabs and vertical tails, which are about 10 "scale" inches too short.
All the current 1/48th A-10 and S-3 inlet/fan sets will be discontinued. We will be discounting the current A-10 and S-10 Inlet/Fan sets only, which will be sold until the current stock is depleted. New and improved A-10 and S-3 inlets are scheduled for mid-Fall.

What a great time we had at the Nationals this year. While we had a lot of fun, it's good to be back home. It was really nice talking to modelers and venders alike. We received a lot of positive feedback from our new products. In addition to Sierra Hotel Models products, we were also carrying Muroc Models kits and accessories which were quite popular as always. Dave is working on more 48th F-8C conversions for all those who've been asking.
Quite an effort by the Sierra Hotel Models team went into bringing these new items out in time for the Nationals. Erik, Pat, Curt, and I pushed through some late nights to make it happen and the results were well worth it. All our new 32nd scale sets sold out and nearly all our 48th products as well.
Unfortunately we were unable to bring some of the items planned for the Nationals like the 32nd F-15 Wheels, 32nd F-16 wheel sets, and the 48th F-18 Legacy Hornet intakes. These will become available as soon as we the new 32nd scale F-4 and A-10 accessories are out. Our 48th scale F-15 and F-16 wheels have been reworked will be following the 32nd scale wheels.
Here's a look at the items we had at the Orlando Nationals.
48th Scale
-F-16 ACES II Seat (Common, Stowed Harnesses) & Rail - Tamiya
-F-16 ACES II Seat (Common, Crew ready Harnesses) & Rail - Tamiya
-F-16 ACES II Seat (Late, Loose Harnesses) & Rail - Tamiya
-F-16 ACES II Seat (Early, Loose Harnesses) & Rail - Tamiya
-F-16C/CJ Cockpit Update set: Seat, Glare shield, and HUD - Tamiya
-F-22 Corrected Nose/Radome
-F-22 Corrected Stabs
-New tooled S-3 Inlets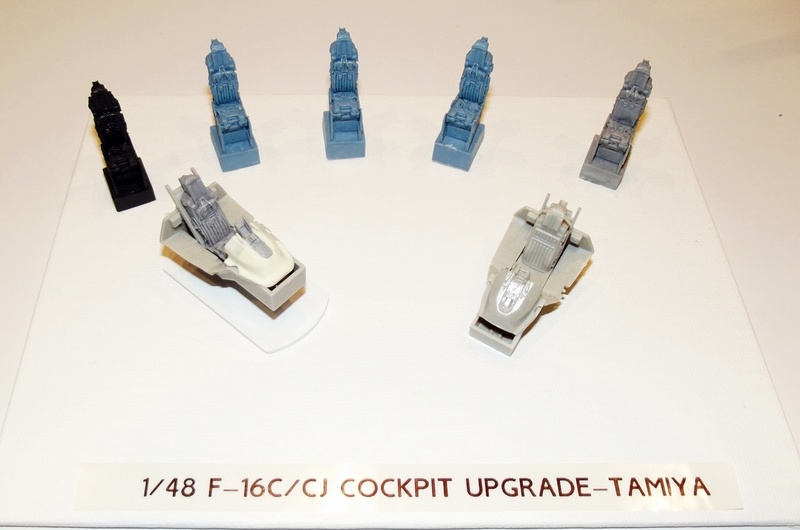 32nd scale:
-A-10 Corrected Inlets/Fans and Exhaust set
-A-10 Corrected Inlets/Fans set
-F-4E Corrected Full Run Seamless Intakes for Revell
-F-4E Corrected Nose/Radome for Revell
-F-4E J-79 Long Nozzle Exhaust for Revell & Tamiya
-F-4G Conversion Set for Revell
-F-4 USAF/FMS Full Run Seamless Intakes for Tamiya
-F-4 NAVY/Marines Full Run Seamless Intakes for Tamiya
-F/A-18A-D Seamless Intakes
On Display in prototype form: (some not pictured)
-QF-4E/G & QRF-4C Conversion Parts
-F-4 Corrected Nose strut w/NLG Wheels – Revell
-F-100A Wheels and Tires (in 48th also)
-F-100C/D Wheels and Tires (in 48th also)
-Skyraider Wheel and tires
-ALQ 101 Pod (1st Gen)
-Pave TAC Pod
-ATFLIR & Corrected ATFLIR Pylon – Trumpeter
-LAU-129 with ALE-50 Pylon – F-16
-LAU-128 with ADU-552 adapter – F-15
-ALQ-167 Pod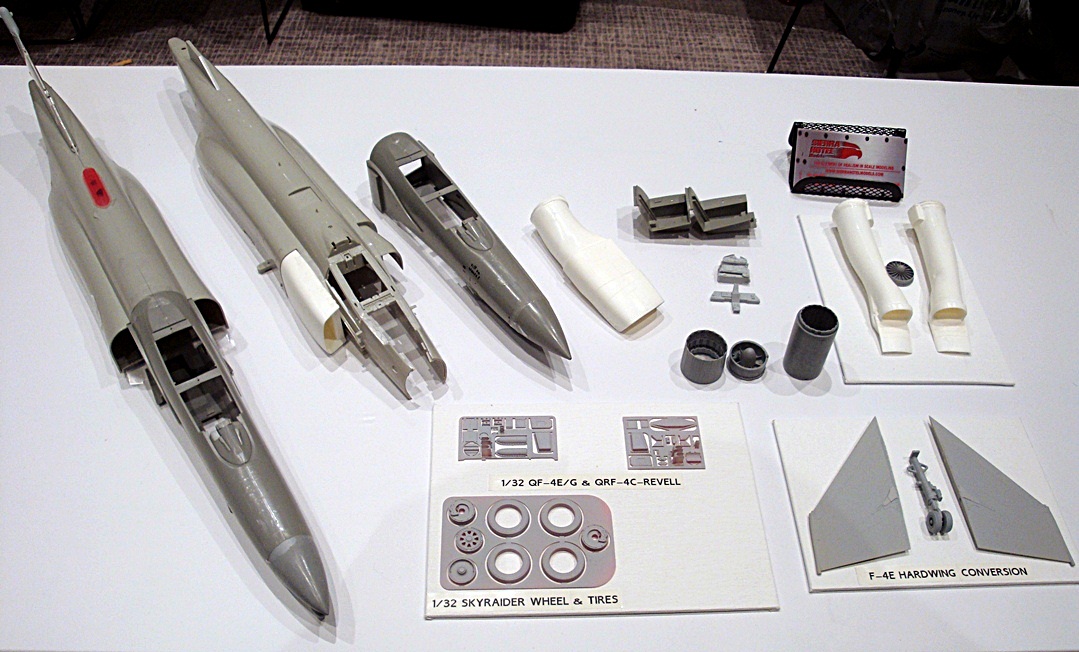 As you can see we had a lot of new releases début at this year's Nationals, as well as samples of future items. I would like to thank all those who came by our table to meet with us and talk about the hobby and aircraft interest. We're always game for that! There was a lot of activity around the displays of future products. The new 32nd scale accessories proved to be quite popular, as were the new ACES II Seats and F-16C Cockpit Upgrade for the Tamiya kit.
We will be listing the ACES II seats and cockpit upgrade sets first, followed by the 32nd A-10 and F-4 accessories. Naturally, the 48th Legacy Hornet Intakes will be placed into the lineup, as these have been long sought after. F-16 and F-15 wheels will be available by October, so hang in there. We're also expecting the next batch of F-22 corrections; Stabs and Vertical tails by mid-September. There will be announcements made when the new (and previously announced) products are available from the website.
For those who purchased our 32nd A-10 and F-4 accessories at the Nationals, the instructions will soon be posted to the SHM website under "Product Instructions". Future A-10 and F-4 sets will have printed instructions included, if warranted.
Thanks again for all your patience and patronage.
Sincerely;
Mike Valdez
Curt Stidham
Sierra Hotel Models
/